Adventure: Dinner in the Round
In Atlanta, we have the Sundial restaurant at the top of the Westin Hotel. In Sydney, we have O Bar and Dining. These restaurants rotate very slowly in a circle, so wherever you're sitting, you will see the entire city pass by your window.
Trick #1: find the right building.
Trick #2: find the right elevator.
Trick #3: try not to make a spectacle of yourself because everything coming out of the kitchen is phenomenal!
I love a good rotating dining room where you can watch the city go by. Usually, that's the big selling point, too. "The food will get you by, the view will keep you coming back." Not so with O. Warm Kalamata Olives, fresh creamy soup, and definitely feeling the steak — a perfect medium-rare, by the way.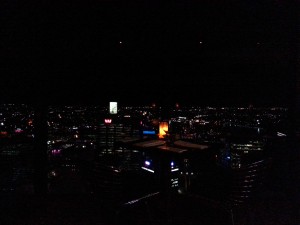 Surrounded by business dinners, meet-the-parents get togethers, and an anniversary splurge in need of a good photo (I can help with that!).
What I like about watching the city go by is that you can let life slow down a bit and enjoy the view. Let dinner last as long as you want to sit there. Two hours? That sounds about right.
Where to now?