Adventure: Manly Beach
Haven't stopped giggling since I heard about this beach and the ferry ride to get there. (Inside, I'm 12.)

It's time for dinner with Manly!
The ferry is packed and the air is cold, so I'm definitely working my way toward an indoor seat.
The boardwalk is a buzz with people and activity. Stepping away from the restaurants and out to the beach, it's a gorgeous half-moon bay with street lights, a wide walkway, and plenty of people enjoying the air on their skateboards and bikes. I walk the full length of the beach. Twice. The wind coming off the water is comforting, but cool. The sound of the waves is rhythmic and soft… you can almost see them, but the water is black at this time of night.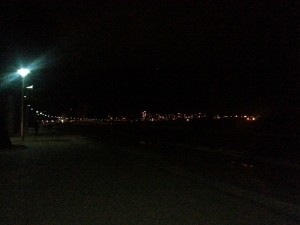 Finally settling on a restaurant for dinner, I choose one with heaters on the patio called Ash's Table. I can still hear the waves and watch people on the boardwalk, but I'm cozied up to the heater and settling in for a nice long meal.
Excellent choice!
As I continue to eat my way through Australia, I discover this lovely dish called the Taj Mahal, which is a fresh/creamy curry with pan seared chicken and jasmine rice. (Did I mention it was delicious??)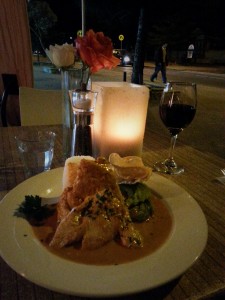 The people-watching here is fantastic, too.
"I just spent a good 45 minutes watching two dads play with their kids — between ordering & food arrival, then again after dinner. The moms get to sit and talk. These dads really enjoyed playing with their kids, too. It's a treat to be a bystander for this." ~ AJB
Viva la dinner adventures!
Where to now?